HELPING BUSINESSES ACROSS THE GLOBE COMMUNICATE MORE EFFECTIVELY

Corum Digital Awarded Company of the Year, Top 10 Most Innovative Digital Signage Solutions Provider 2019
Digital communication, via a network of digital displays, is truly a more effective way to communicate, believes Corum Digital. Corum Digital is a technology company that is passionate about helping organizations improve the way they communicate. As such, it provides complete digital signage solutions that include Content Management Software, digital displays, video walls, kiosks and tablets, as well as content creation, training and installation services. Its solutions are installed in thousands of corporate, retail, government, educational, and industrial locations globally. Its products enable its clients to communicate effectively so that they can engage, educate, and empower their audiences.
Mature and Feature rich Offerings
Corum Digital designs and develops 2 brands of Digital Signage Content Management Software, MediaTile and firmChannel.
MediaTile is an enterprise level SaaS based Content Management Software (CMS) that is typically sold as part of a complete Digital Signage Solution. Complete solutions include Digital Displays, Digital Media Players, Cellular Routers and Mounting Systems. Digital Displays are purpose built commercial displays and are available in various form factors including independent displays, video walls, interactive digital kiosks, tablets and merchandising displays.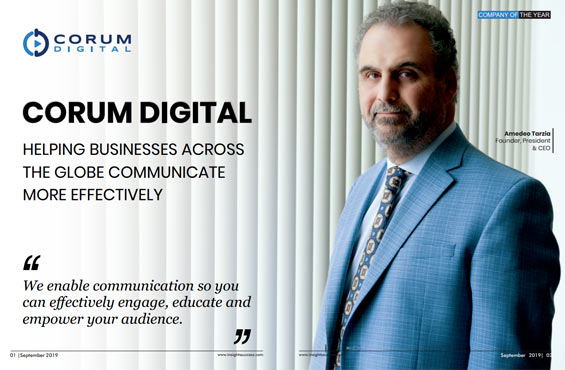 firmChannel is an enterprise level SaaS based Content Management Software (CMS) and as its name indicates, is sold exclusively through a channel of value-added resellers. It is targeted at larger network operators and is either sold as a software only product or sometimes with a media player and/or display.
Corum Digital's CMS Software offerings are mature and feature rich offerings that are easy to use and deploy for a handful of displays, but also scalable enough to handle thousands of displays. They are highly reliable with a robust set of remote management and automated maintenance tools. A wide range of innovative features include a full featured Content Designer, Drag & Drop Widgets for News and Social Media Feeds, Anonymous Analytics/Facial Recognition, Video Presence live 2-way video chat, Touch Interactivity, Roles Based Security and much more.
A Technically Minded Leader
The entrepreneurial mind behind Corum Digital is Mr. Amedeo Tarzia, its Founder, President/CEO. He has been in the technology sector his entire life, with more than 30 years leading Corum and various spin off technology companies. His focus is on creating highly innovative technology companies and surrounding himself with individuals who are truly passionate about the technologies they immerse themselves in. This has resulted in industry firsts, including first entirely cloud based digital signage solution and first commercial use of Android media players. He continues to drive innovation through investment in the research and development of digital signage software and hardware products. Amedeo prides himself on cultivating long lasting relationships with his clients and partners alike.
Customer-centric Approach
Corum Digital listens closely to the needs of its customers to better understand who their target audience is and what message they want to deliver. An internal corporate communication would be delivered very differently than a cross sell or upsell promotion on a retail sales floor. Hence, the company is constantly coming up with new and innovative ways to deliver content that will be most impactful to the desired target audience.
TECHNOLOGY THAT POWERS COMMUNICATIONS