AWARDS
As industry leaders, we are committed to always strive for excellence
INDUSTRY RECOGNIZED
Corum Digital is a recognized leader and innovator in the digital signage industry.
Our solutions have garnered customer praise and industry awards for increasing market reach and viewer interaction, while reducing costs and complexities. We have forged strategic relationships with a number of industry leading partners to deliver operational excellence. It is through these strategic partnerships that we are able to leverage a vast set of knowledge, state-of-the-art technologies, and best-in-class services to create and support our award-winning products and services.

Corum Digital Awarded Company of the Year, Top 10 Most Innovative Digital Signage Solutions Provider 2019
Insights Success is an archway that caters to Entrepreneurs' quench of technology and business updates which are currently ruling the business world.
They are ceaselessly proving the best platform for leading companies, which aids indefinite progress while creating meaningful learning experiences for the visitors and invaluable brand awareness for its clients.
Availing core information about newfangled business solutions, products & services, latest technological advancements, etc., Insights Success is an impeccable platform firmly focused on organizations of all sizes and sectors thriving in the business world.

The voice of the IT Solution Provider
CDN's Channel Elite Awards recognizes IT Solution Providers for their innovation, leadership and commitment to creating business value and game changing solutions for customers.

Computer Dealer News (CDN) is the voice of the IT solution provider community in Canada for more than thirty years — is the most widely read and trusted source of information for Canadian channel executives.



Content that connects
The DIGI Awards is the only industry award program that recognizes the outstanding integrators, content providers and new product manufacturers for digital signage.

NewBay provides multichannel marketing solutions and information to communities encompassing over 5 million professionals and nearly 8 million enthusiasts centered around technology driven interrelated markets: Television & Video, Entertainment & Educational Technology, and Music.



Raising the bar of excellence for mobile innovation.
CTIA Emerging Technology Award winners represent the best mobile products, apps and services of the year that have the potential to influence and benefit businesses and consumers.

CTIA® represents the U.S. wireless communications industry. With members from wireless carriers and their suppliers to providers and manufacturers of wireless data services and products, the association brings together a dynamic group of companies that enable consumers to lead a 21st century connected life.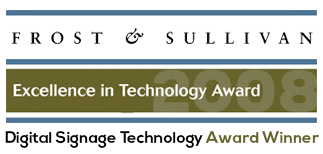 Creating transformational growth strategies.
The Awards recognize companies that are predicted to encourage significant growth in their industries, have identified emerging trends before they became the standard in the marketplace, and have created advanced technologies that will catalyze industries in the near future.

Frost & Sullivan is a growth partnership company focused on helping our clients achieve transformational growth as they are impacted by an economic environment dominated by accelerating change, driven by disruptive technologies, mega trends, and new business models.


TECHNOLOGIES THAT POWER ENTERPRISE SOLUTIONS