Hospitality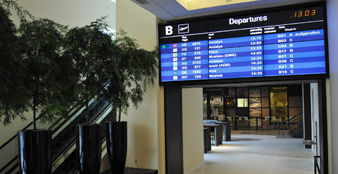 Digital signage can be used in many different ways to create a memorable experience for guests. Screens and kiosks can be used to communicate flight information, display restaurant menus and specials, and promote all the amenities and special events a Hotel has to offer. A touch enabled HumanKiosk can be used as a virtual concierge allowing guest to explore available services, activities and events at their leisure, freeing up staff. Wayfinding can be incorporated to help visitors and guests easily find their way around. For chain hotels, corporate head office can manage brand messaging for all locations while allowing individual locations to manage site specific content.
Automotive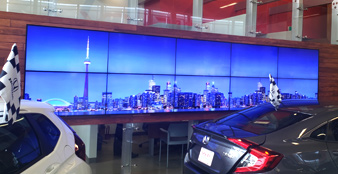 When a customer enters a showroom, how do you create a great first impression? An impactful, dynamic video wall at the entrance can show off new vehicles, promotions, financing options and service center products and services. Strategically placed digital signs will re-enforce your messaging and increase conversion rates. Touch displays will give customers the opportunity to self-discover the impressive features of the available vehicles. In the service area, digital signage can generate upsell by promoting winter tire packages and other seasonal or mileage sensitive services and keep customers informed about where their vehicle is in the queue and entertain them to reduce the perception of lengthy wait times. To motive employees, digital signage can be used to display leaderboards to encourage positive competition and motivate staff. Content management can be shared between individual dealerships and head office to ensure consistent brand messaging and appropriate location-based messaging.
Education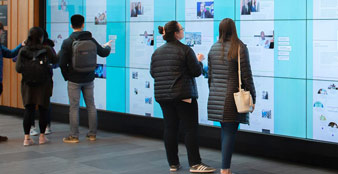 Keeping the student body, staff and visitors informed is critically important and is extremely difficult and costly to do with printed materials and impossible in a sudden emergency. Strategically placed digital signage displays can be managed from a single modern browser simply and easily. Unique content can be assigned to specific screens based on the target audience. Effectively communicate events such as career fairs, sports tournaments or socials and even keep cafeteria menus up-to-date. Our Quick Broadcast feature can be used to interrupt content with unexpected, time sensitive messages to alert people of sudden changes in class schedules or emergency situations. Integrating wayfinding helps students and visitors find their way in unfamiliar spaces. And to help celebrate patrons, a large, multi-screen donor wall will recognize their generous contributions.
No matter which industry you're in, a highly reliable and secure digital signage platform is an important component in any marketing plan and business model.
You work hard to develop your communication goals and you need a reliable and effective digital signage platform that will get your messages out to your target audience and has the features to realize your vision.
Our own Digital Signage platform is not only easy to use, it includes a simple to use design tool to create custom layouts that can include images, videos, text, newsfeeds, weather, streaming content, custom data and TV. It is also easy to create templates for multi-display video walls and interactive content. Other features that you can integrate with your content include Wayfinding, Video Presence (live 2-way video chat), Anonymous Analytics and more. The service is cloud based, so there are no servers to buy and maintain on-site and we include unlimited storage. There is no limit on the number of user accounts you can setup and we include unlimited training and support.
Corum Digital is a full-service digital signage provider. We offer everything required to build and maintain a successful digital signage network from planning and logistics, to hardware and installation, to a content management platform. A successful digital signage network always begins with a clear set of goals to engage, educate and empower your audience.