Corum Digital Partner Program

We're excited to share insight into our updated firmCHANNEL partner program. From the original acquisition of "firmCHANNEL" back in 2011, we have revamped our Partner program to provide a brand-new suite of benefits and resources to support any digital signage project. With the firmCHANNEL Partner Program, you become a solution provider for digital signage with the tools to open up new ways to engage with your customers. We offer everything you need to set-up and manage your network, with content delivery at the forefront. Our equipment is purpose-built to meet the rigorous demands of a signage network and works in commercial environments. In addition to our enterprise-grade CMS, our Training and Support Team works with you so you are ready for success.
Why FirmCHANNEL
Enterprise grade solutions

During the Acquisition of firmCHANNEL, the goal was to equip our reseller partners with an enterprise-grade platform to better support their client's digital signage projects. Over the years, our team of developers have rigorously worked to revamp our platform from a simple CMS to a robust enterprise-grade CMS solution. Whether you are looking to deploy a single display or a wide range of endpoints, firmCHANNEL can manage your entire network through our secured, clouded based solutions.
Custom integration through API
When custom integrations are required, our in-house developers can bring your vision to life. Starting with requirements gathering through to designing and implementation, our team takes great care in ensuring that every project is a success. We work with you to develop high-quality applications to help drive the success of your client's business.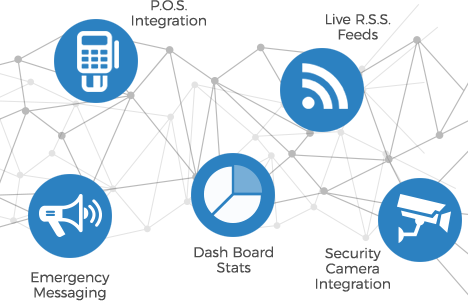 User Access control
A misconception we regularly hear from clients is the need to run multiple CMS' to service different divisions or projects within the business. firmCHANNEL removes the need to operate multiple platforms as user-based access control feature providers network operators an approval process to control what is being released to each display.
Reporting
firmCHANNEL delivers a detailed report on exactly when individual pieces of content are played, for how long and on what players. Data can be printed out or downloaded in CSV format and imported into a billing or reporting system. Along with proof of playbook reports, you have access to detailed user activity logs and other reports such as player events logs, to help with troubleshooting.
Tools and Support
As the developer and authors of firmCHANNEL, we offer our valued partners unparalleled levels of support across all lines of our business. We embrace feedback or requests from our partners to ensure we meet all your client's digital signage requirements. The ultimate goal of our new partner program is helping our partners grow their business.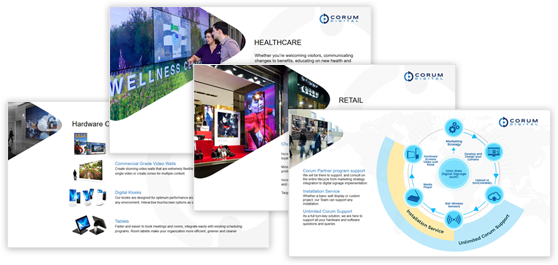 Our partners receive a customized onboarding program, access to all marketing/sales collateral, preferred pricing, and usage of our cutting-edge client experience center. These unique game changers offered by Corum Digital will help your organization provide unprecedented client experience and strengthen your client relationship. Along with the extensive list of resources, our dedicated channel partner team provides our partners with as much or as little support needed to answer inquires, pitch clients, develop target accounts and directly support digital signage opportunities. Ultimately, we know that the success of our partnership will result from our continued effort to never stop adding innovative resources to the partner program.
For any additional support, we're also happy to offer unlimited training from Monday to Friday 9 am-9 pm EST. Go together along with our remarkable support team, we will also build a custom library of training material to ensure our partners are equipped with the resources to support any digital signage inquire.